7 Practical Sex Tips from an Adult Star
Whether you're an avid watcher of porn or refrain from it completely, you can definitely pick up some sex tips from our expert to become better in bed. We asked Spencer Barrick, who has been an adult performer for over 6 years, for his best sex tips to make you a better lover for your female partner(s). Here's what he had to say...
1. Porn Sex is NOT Real Sex
I can't emphasize this enough. What you see in XXX movies is not representative of "real sex." These are actors that are paid to create a fantasy that is not reflective of how people should approach sex in the bedroom.
Most of the sex you see in movies, where the performers are doing crazy acrobatic positions, are more meant to look good on camera, than to actually be pleasurable for the partner.
PRO TIP: Don't start too fast. The vagina and clitoris are sensitive and need some time to warm up. And don't be afraid to use lube. It will help get things feeling good...the wetter, the better!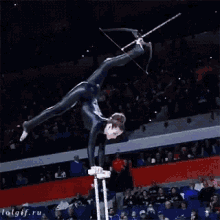 2. Diet Plays an Important Part of Great Sex 
Think of your body like a high performance car and the things you put into your body as the fuel. The most important thing is to stay hydrated. The more water in your body, the less likely you are to run out of gas or overheat while in the bedroom. If you put high quality foods in your body, you'll get high quality results.
Eat more fruits and veggies because they will keep you lean, less bloated and give you better blood circulation. Eat fewer cupcakes, pizza and foods that are high in fat, sugars and starches because these will lead to decreased circulation and increased blood pressure (aka decreased sexual performance/stamina).
PRO TIP: Protein shakes are a great pre-sex meal/snack.
3. Prepare Mentally Before Getting Physical
Engaging in sex with someone is a pretty big deal, so when you are in the act, make sure your thoughts and intentions are focused.
Don't get distracted by the money you made or lost in the stock market when you are about to get freaky with your partner. Stocks go up and down. So does your member. So be mindful!
Have a game-plan prior to sex knowing what you want to do. If you are fumbling around during the act with no direction, it's a sure way to lose. Be confident, be YOU!
PRO TIP: Practicing meditation will help increase the pleasure and feelings you get from sex. It will also help you visualize the sexual experience before it happens. Think of it as a practice round that will get you in the zone.
4. Let's Talk About Sex
Communication with your partner is generally overlooked. Once people agree to have sex, they usually just go at it. Instead, take the time before you jump into bed to find out what your partner likes or dislikes during sex.
Talk about their favorite positions. Do they like it passionate or rough? What parts of their bodies do they like to have kissed/licked? Toys? Do they want to keep it silent or like dirty talk? Etc.
If you ask these questions, it will open up a world of possibilities that you may never have known.
PRO TIP: Physical communication is just as important as verbal communication. While you are having sex, be aware of physical cues from your partner to gauge their sexual experience. If they are moaning, you are doing it right. Keep going. If they are pushing you away while you are thrusting, you might be going too hard or too deep, so slow it down.
5. Work Your Body
It is also very important to be prepared physically. Those extra reps in the gym or extra laps around the block will have you looking and feeling good.
The better you feel about yourself, the more confidence you will have when it comes to sex. Remember, it's not just about having big muscles. Optimal sexual performance includes: strength, endurance, stamina and flexibility.
PRO TIP: Do a few push-ups before sex (if you can), it will get the blood flowing and boost testosterone levels. Also, stretch out a bit, you don't want to pull a hammy.
6. Slow and Steady Wins the Race
On average, sex only lasts 5.4 minutes before a guy reaches orgasm. The problem is that it takes an average of 20 minutes for a woman to reach orgasm.
So take your time and don't try to be the rabbit, when you actually need to be the tortoise in order for BOTH of you to finish the race. Remember it's always better to be a marathon runner than a minute-man in the bedroom.
PRO TIP: If you feel like you are going to come early, don't be embarrassed to pull out and take a couple deep breaths to settle down. Think about something that takes your mind off of sex for a few moments (the stock market?) to distract yourself. If done correctly, this will buy you a few extra minutes of fun.
7. Keep it Clean to Do the Dirty
Hygiene is crucial before and after sex. Shower before sex, keep your privates groomed, wear deodorant, brush your teeth and trim your nails. The cleaner you are, the better you'll feel and the better impression you'll leave on your partner.
Self care shows that you care about your partner as well. It is also very important to shower after sex and to scrub your privates to wash off post sex fluids. If you don't, it can lead to skin infections or UTI's.
PRO TIP: Before you have sex without a condom with a new partner, it is recommended to get an STD test to make sure you are clean and STD free.
Wrapping Up
There it is. It's good to hear you don't have to be a porn star to use these tips in the bedroom. Speaking of bedroom. We know using a condom generally sucks, but we've designed one that doesn't kill the mood. So if you want to prevent genital nasties and/or babies, Click the Image Below to try P.S. Condoms. 

 "I HAAAAATE most condoms. Its a struggle to find one that has good feel. These have GREAT feel. And aren't stinky! Nobody likes condom stink after having fun!"
-T. 
P.P.S.
Check out these tips to reaching orgasm.